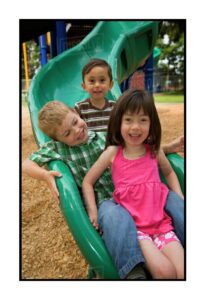 Families everywhere are welcoming the arrival of summer, as June signals the end of another school year. Sleeping in, sunny days at the beach or the park, family outings and just plain lazy days await. Perfection, right!
But wait!

Studies

dating back to 1996 have discovered a less than ideal consequence of long summers away from school. This phenomenon, which education professionals call "summer slide," occurs when students lose math and reading skills when not attending school.

Summer slide, however, is far from inevitable. There are so many easy strategies to avoid summer slide; in fact there are many ways to actually build academic skills, in

fun

ways, while school is out. 
The most important antidote to summer slide is, of course, remaining active. This is not only critical for children's and teen's academic development, but also for their health and emotional well-being. Switching out the electronic devices for social, physical and mental engagement will prove to have combated the summer slide when school resumes in the fall. Even simply talking and journaling about summer adventures keeps students thinking and writing.
Here are some suggestions for making this summer the best ever, while ensuring that your students use their time off to build the academic skills which will give them an advantage in the fall.
Library

. Make sure your kids have library cards; visit once a week and challenge them to read a certain number of books during the summer; attend story time and other library activities; establish a family reading time together.
Outdoor concerts and movie nights

: Many communities offer free outdoor concerts and movie nights. Have your kids research what is available and write reviews after attending.
Parks

: Local, regional, state and national parks – so much is available to us in sunny California! Reading maps is a great way to build skills, so get kids to research park visits and lead the adventure. Take advantage of naturalists, guides and visitor centers and the activities they offer. Check out California's

Outdoor Access for All

program, which aims to provide children with access to green spaces.
Hiking:

Hiking can easily be an urban activity too! So, get out and explore the trails. As you go, take note of the local plants (and animals!) and encourage kids to learn all about them.
Trail running

: Try this popular sport by kicking up the hiking a notch and exploring local trails for running. Have kids measure and improve their Personal Best Running time (PBR).
Orienteering

: Make the hiking even more challenging by taking up orienteering, moving from point to point navigating with a map and compass. This is another great way to build reading skills. Check out

orienteeringUSA.org.
Camping

: Camping is a wonderful way to escape into nature. If you have no campgrounds nearby, try backyard camping in our own yard. No yard? Try indoor camping in a home-made fort in your own living room!
Book clubs/book swaps:

Make reading more fun by inviting your kids' friends over to share their reading choices and swap books with one another.
Outdoor picnics:

Almost any space can become the right location for an outdoor picnic! Get kids involved in preparing a fun picnic meal and choosing the spot!
University and college visits:

Speaking of picnics, universities and campuses are the ideal spots for picnics. Not only do they have green space and many activities, but exposing your kids to educational settings at a young age suggests to them that post-secondary education is a great future pathway for them. 
Informal Sports:

Pick up a ball and just play!
Community Centers:

Check out the activities available at your local community center. Most offer a rich variety of clubs and classes for children and families during the summer.
Intersession school events:

Ask your school about intersession. Many summer school opportunities are available for credit recovery (older students) and enrichment.
Beach walks/beach clean ups:

Don't forget to visit California's lovely beaches, and when you go for a beach walk, teach your kids about the importance of a clean beach environment. For information about how to join a local beach clean up event, visit

surfrider.org

.
Citizen Science:

Check out local citizen science initiatives happening in the summer: counting butterflies or condors anyone? Visit

citizenscience.gov.
Day camp:

Many communities offer day camp opportunities, all designed for fun and learning.
Home improvement projects:

Why not tackle that building, painting, cleaning or reorganizing project together this summer? Most kids love to be busy with something hands on!
Gardening:

Plant your own veggies. Even with a minimum of space, everyone can grow tomatoes, herbs, lettuce, etc. You don't even need outdoor space, as many edible plants can be grown right inside your home.
Music:

If your children are into music, consider renting a musical instrument for the summer, or better still, borrow one from your school. 
Arts and Crafts:

Summer is the ideal time for arts and crafts too. Take a trip to the art supply store (or the thrift store!) and let your kids get creative.
Grocery shopping:

Even something basic like grocery shopping can be an adventure. Have kids write grocery lists, create budgets, and hunt for unusual items. Play the "gross food challenge" and give each child $5.00 to buy something they dare everyone else to eat.
Cooking and baking:

Preparing food for and with the family is an excellent way to practice reading, following instructions, using fractions and observing scientific processes, so let kids go crazy in the kitchen!
Old fashioned board games:

What would summer be without playing cards, Monopoly, Clue, and Trivial Pursuit? Even jigsaw puzzles can help develop thinking skills. Put away the video games and swap them out for some family time! 
Old fashioned backyard games:

Many of our kids have never had the joy of playing hopscotch, red light green light, capture the flag or kick the can! Have kids research outdoor games and invite friends over to play.
Volunteer work:

Often an overlooked opportunity for high school students, volunteer work is a fabulous way to prepare for upcoming college admissions and employment. Students with a history of work experience learn so many skills, and typically have a head start on their peers. Check out

volunteermatch.org

to explore opportunities in your neighborhood.
No matter what you do this summer, get active and enjoy some fun family time together!
This blog was brought to you by guest blogger Anne.  Anne has worked as a school administrator for years and brings us a plethora of education advice.  Thank you Anne for helping Compass FAH to achieve our goal to provide education to empower and enrich the lives of individuals residing in affordable housing.  To learn more visit our website at http://compassfah.org