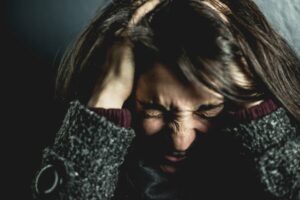 A midlife crisis seems like a four letter word to most of us, yet is not an uncommon time in life. It's a time when most individuals realize their own mortality and focus on the past, feeling regrets about things they did or didn't do. Some experience a feeling of emptiness; others, a sense of loneliness. Here are some tips in ways to decrease the symptoms of depression and anxiety that often come with a midlife crisis.
Take up meditation. Daily meditation helps to relieve stress, and practicing mindfulness by being present in the moment helps eliminate obsessive thinking about the past or worrying about the future. In addition, focusing on your breathing will calm your mind and decrease your heart rate, giving you a sense of peace.
Start a new hobby. A new hobby in can be fun and exciting. Hobbies are good for your mental health because you can become lost in your craft. Worries will fade away. An internet search will reveal hundreds of ideas. When you find something you think you'd like, set a budget and consider how much space you'll need for your hobby. For example, furniture-making will take up much more space than songwriting. Letting your creative juices flow gives you something new to do and produces an end product that will make you proud.
Reconnect with friends and family. Family and friends can inspire us like no others. Individuals with strong relationships are less likely to resort to harmful coping mechanisms when something goes wrong because having someone to confide in decreases stress. In addition, friends can assist you in meeting your goals by acting as accountability partners.
Enjoy the great outdoors. The outdoors in San Diego positively affects mental health as people tend to concentrate on simply "being" when enjoying nature. Getting in touch with the outdoors lowers anxiety and lifts the mood, and it's a great way to get some fresh air and exercise. In addition, connecting with others while outdoors may lead to new friendships with people who enjoy being outside as much as you do.
Making changes…
Many individuals experiencing a midlife crisis feel stuck. Life can seem on hold, with no movement forward or sense of fulfillment. As you look back over your life, consider the experiences you've gained and use them to create the life you want. A career change can be a great way to get out of a rut and back in touch with yourself and what you want.
After narrowing down career choices, you'll need a great resume. This will set you apart from the crowd, giving you a better chance of getting an interview where you can showcase your talents. Look for a free resume builder to design a professional-looking resume. After choosing from a library of professionally designed templates, personalize it by adding tweaks such as your own photos, color scheme, and copy. You'll have a professional resume ready to send in no time.
Maybe including your lifestyle?
Midlife crises can lead to positive lifestyle changes for many people, including becoming more active and choosing to live healthier while looking for a new job. Visit Compass for more tips on managing your life and implementing healthier choices, including nutrition and fitness.